Kadapa, 19th Dec'09: As part of efforts to intensify the ongoing united Andhra movement, an all-party committee comprising functionaries of Congress, TDP, Praja Rajyam, social organisations and students organised a day-long 'rail roko' in Kadapa district on Saturday.
They stopped the Hyderabad-Tirupati bound Venkatadri and Rayalaseema Express trains at Railway Kodur station. Another batch of agitators stopped the Jayanthi Janatha Express at Kondapuram and Muddanur. In Kadapa agitators stopped a goods train near Krishnapuram railway station in Chintakommadinne mandal.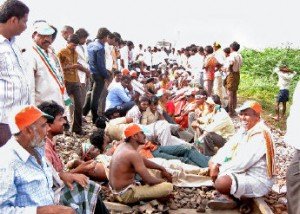 Thousands of agitators squatted on the railway tracks near the Krishnapuram, Kamalapuram, Yerraguntla, Muddanur, Nandalur, Rajampet, Obulavaripalle, Kodur and Settigunta railway stations in Kadapa district from 8 a.m. onwards until 6 p.m.
Railway authorities cancelled the Inter-City Express and diverted several trains at Guntakal, Gooty and Renigunta junctions in order to avert inconvenience to commuters. On account of the diversion, there was skeletal movement of trains. The all-party committee chairman Ch. Chandrasekhar Reddy, Kadapa Mayor P. Raveendranatha Reddy, Deputy Mayor K. Nabi Rasool, DCC president K. Suresh Babu, DCMS chairman Pratap Reddy, former MLA K. Sivananda Reddy and TDP leaders S. Goverdhan Reddy, R. Venkatasubba Reddy, Ameer Babu and S. Subhan Basha, Rajoli Veera Reddy, CRI Subba Reddy and municipal corporators participated.
– The Hindu