Hazrath Ali Murad (R.A) Dargah (Aastan-e-Muradia) Kadapa is an example of the communal harmony preached by great saints and sages in ancient days. Pilgrims Come Monday, Thursday and Friday, scores of pilgrims cutting across religious faiths, throng the 236-year-old shrine seeking blessings of saints
Followers of the dargah believe that whenever there was an outbreak of cholera in Kadapa town , residents use to consider Hazrath Ali Murad Qibla as their savior and Golden Angel from God to protect them and special prayers were conducted at his shrine by carrying Flower Chandani, and also wish that one makes at the shrine is always fulfilled.
A large number of Hindus, Muslims and people of different faiths are disciples of the shrine. The family's descendants identify themselves with a Green mix with saffron cap because the saint belongs to family of Peerane Peer Ghouse Azam Dastagir (Baghdad Iraq) and also related to Khaja Garib Nawaz R.A (Ajmeer)
Peternal grandfather of Qutbe Kadapa (Hazrath Ali Murad) also situated at Astana-e-Muradia. All the ancestors of Qutbe Kadapa having their own karamat. When we calculate the history of origin of ancestor Of Ali Murad Saheb is nearly 450Years of Dynasty in Rayalaseema, across different places.
One day when Qutbe kadapa went out from his house (in which present sajjada Nasheen Syed Sha Mohammed Jamalullah Basha Hussaini and his brothers living is belongs to Qutbe kadapa house) saw peoples carrying the dead body of more than three persons without respect, then Qutbe kadapa asked why as Islam teach to be respected with dead body what is the cause doing so ir- respect with dead persons, then they replied that these peoples died because of spreading disease called Cholera, then Qutbe kadapa cried infront of God and pray standing in Hot sun, after that he called all people and told them to read Dua which was written by himself and confirm that if I passed from this world read my written dua and pray with god and once remember me Insha Allah all harmful disease will get clear not only from house from total area.
In the Dynasty of Khube Kadapa (Ali Murad Saheb) many recognised mystic books printed some of them available with dargah trustees and some are safe in Museums of Hyderabad and Lahore.
Family Tree: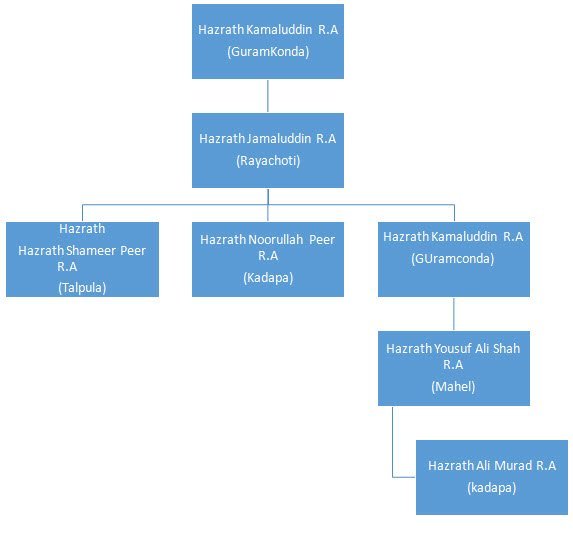 Karamat of Qutbe Kadapa:
During olden days there used to be nearly 50 Numbers of grave yard available in kadapa, now only 10-15, and the grave yard where Tomb of Qutbe Kadapa Situated is family grave yard of his great grandfather Hazrath Noorullah Basha Saheb whose tomb also situated near to the tomb of Qutbe Kadapa.
Urs
Qutbe kadapa Urs is celebrated in Jamadi'ul Awwal (10th lunar month) of Muslim calendar. This Urs brings pilgrims to Kadapa from every corner of the country, the main first start with the sandal paste ceremony. It is taken out in the night and Fateha is offered at the tomb of the saint. The sandal paste is treated as Tabarruk (prasada) and is distributed to the devotees. The 2nd day Urs ceremony. 3rd day Thaleel and 4th day Mushaira program.