'Bhairva Kona' or 'Bhaireni' (Telugu : భైరేని or భైరవకోన ) Situated in the middle of Nallamala Reserve Forest at a distance of 12 miles from Onipenta and 30 miles Yerraguntla Railway Station. Onipenta is on the Mydukur – Porumamilla bus route. Journey for an hour through the deep forest will gives thrilling experience to pilgrims/tourists.
One has to go through private transport (preferably a cab such as Tata Sumo, Toyota Qualis, Mahindra Bolero etc…) to reach Bhairava kona.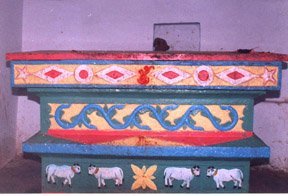 The image of Bhairava Kondaiah in the form of mondi sila (headless trunk in stone) is the place of worship in Bhairavakona.
There is a legend attached to bhairava kondaih. In the gone by, cow-herds and shepherds of the surrounding villages were tending their cattle in Bhairvaswamy Kona. In course of time, herds increased to thousands and the water in the spring there fell short. Thousands of cows began to yell for water. Seeing their sufferings, Yadava Kondaiah, one of the cow –herds, bathed in the spring and prayed to god that he would sacrifice his head if the thirst of the cows was quenched.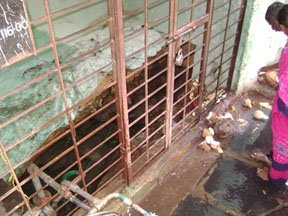 Immediately god responded to his request and water sprang up in abundance. The cows quenched their thirst. Kondaiah went to his village Lekkalavaripallie, hamlet of ganjikunta,and had come back with his relatives and friends to worship the lord and to sacrifice rams and goats to show their gratitude. Their joy knew no bounds when they saw the spring of water flowing out. After feast was over, they all started homewards.
On their way Yadava Kondaiah returned to the spring with the pretext of getting something he had forgot ten. Hanging himself from a branch of the tree by tying his hair to it, he cut his head with a sword and the trunk fell down. After some time as Kondaiah did not turn up, the relatives came in search of him and saw the horrible scene to their great sorrow, consoling themselves that it was his entire act.
They buried his body and head near the spring and installed a mondi sila (headless trunk in stone) of Kondaiah. One of the bulls of Lekkala Subbi Reddy of Lekkalavaripalle died before the deity on the day of the festival and it was buried in front of the deity and an image of Nandi was installed over its tomb. It is worshipped during the festival days. The deity is surrounded upto a radius of 5 miles by a thick forest known as Bhairavaswamy Chenu.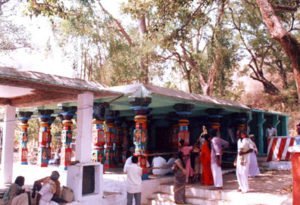 But it is free from any danger from wild animals and poisonous reptiles. Women during their monthly periods should not enter that sacred place lest they should be driven off by a kind of bees. One strange phenomenon of this place is that green gram should not be offered to the deity in any form and it is feared that those that offered had unfavorable experiences.
Sri Mondi Bhairava Kondaiah or Bhairava swamy festival is celebrated for three days from Magha Bahula Triodasi to Amavasya (February-March) during Mahasivaratri.
On the first day, jagarana (keeping awake throughout the night) is observed. The next day, tonsure ceremonies are performed and the issueless pray for children. On the third day, fowls, goats and rams are sacrificed in addition to offering of bonamulu.
Devotees take bath in the spring, observe fast on the first day and offer naivedyams (Consecration of food to a god) on the second day and consume choice sweetmeats.
The ryots, when the crops are infested, take bath in the spring, bring the sand from there and scatter it mixing the same with poli (blood of goat etc.) in their fields without placing it on earth and without sleeping on the way. This festival is being celebrated for the past 50 years and is widely known.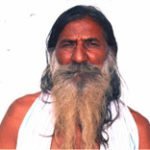 The village Munsiff of Ganjikunta is the chief patron. Nearly 20,000 people of all communities from various parts of the state congregate. Pujari is Lekkala Balireddy . Prasadam is distributed to all.
Free feeding is arranged in addition to poor feeding. The water spring affords plenty of water to the pilgrims.
How to Reach Bhairava Kona:
By Road:
Kadapa —> Mydukur –> Onipenta –> Mudireddipalli Sugali Tanda —> Nallama Forest –> Bhairavakona
Nearest Railway Station: Kadapa (60 KM), Yerraguntla (50 KM)
Nearest Bus Station: Mydukur (30 KM)
Whom to contact in case of queries?
Name of the Person: Mr. BaliReddy
Mobile : +91-9676319205