Kadapa : The Andhra Pradesh CM Sri Y S Jagan offered silk vastrams to Sri Venkateswara Swamy on behalf of State Government, as a part of the official tradition, to make such an offering during the annual Brahmotsavams at Tirumala.
Earlier the Chief Minister was adorned with traditional headgear by temple archaka at Sri Bedi Anjaneya Swamy temple. From there he carried the silk vastrams in a plate over his head amidst the chanting of Veda mantras with the accompaniment of Nadaswaram and Melam to the main temple.
Later he offered silk vastrams to the presiding deity in side temple and offered prayers to Sri Venkateswara Swamy. At Ranganayakula Mandapam he was rendered Vedasirvachanam by temple priests.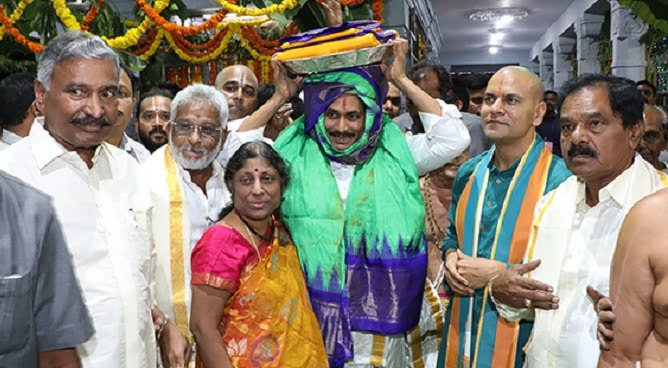 CM OFFERS TULABHARAM
The CM later offered 80kilos 400grams of rice as Tulabhram and fulfilled his wish and also took part in Peddasesha Vahanam procession.
TTD Chairman Sri YV Subba Reddy, EO Sri Anil Kumar Singhal, Additional EO Sri AV Dharma Reddy, CVSO Sri Gopinath Jatti, District Collector Sri Narayana Bharat Gupta, Tirupati Urban SP Sri Anburajan and other officers were also present.
Apart from the officers, the other important persons who were present included MPs Sri Mithun Reddy, Sri Reddeppa, Minister DyCM Sri Narayana Swamy, Sri P Ramachandra Reddy, Local MLA Sri B Karunakar Reddy, TTD Trust Board members, special invitees and others were also present.