Nallacheruvu palli (Telugu: నల్లచెరువు పల్లి) – Situated at a distance of 10 miles from Pulivendula, the taluk head quarters, 18 miles from Muddanur Railway Station and 31 miles from Jammalamadugu, the sub-divisional headquarters. It is on the right bank of the Mogameru River at its confluence with Uddanda vagu (a small rivulet). Four furlongs to the east of this village and on the hillock of Mohanagiri lies the Bhairaveswara temple of Lord Bhairaveswara swamy built by the Vijayanagar ruler, Sri KrishnaDevaraya.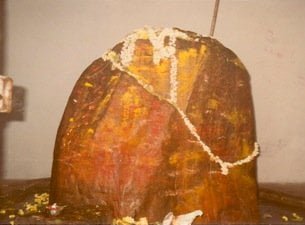 Two furlongs from this village lies a tank, the soil of which is black. Hence the village is named Nallacheruvupalle (nall: black, cheruvu: tank and palle: village).
Nallacheruvupalli is made up of the following communities: Caste Hindus – Brahmin, Vaisya , Devanga, Talari, Chakali (washerman), Mangali (Barber); Scheduled Castes – Madiga,Mala; Muslims and Christians. The chief means of livelihood of the people are agriculture and weaving.
Beneath the Mohanagiri hillock is the temple of Akkapappuramma. The compound wall constructed around the pagoda and temple of Bhairaveswaraswamy covers on area of 2 acres. The image of the deity is a black stone lingam spherical in form measuring 30 feeret in height and 10 feet in circumference. The deity enjoys 10 vahanas made of panchalohams, Nandi being one among them. There are also 4 temples of Lord Rama.
Bhairaveswara Festival:
Bhairaveswara swamy festival (kalyanam) is celebrated annually for 11 days from Jaistha Suddaha panchami (May-June). Coconuts, camphor, fruits, and flowers are offered to the deity. The celebration of kalyanam (marriage) of Siva with parvati is the main ritual of the festival. This is being celebrated for the past several years and extends to the other villages of Kadapa district. Hindus are the chief patrons.
The festival is celebrated under the auspices of the village Munsiff of the village. The Inam lands belonging to the temple are scattered in different parts of the district and are enjoyed by the pujaris. The Government contribute some amount to meet the expenses of the festival. Hindus of several village of Kadapa district congregate.
Ganga Jatara is celebrated annually for one day in the first or second week of March when fowls, sheep, goats etc., are sacrificed.