Kadapa, Dec. 20: A tense environment is prevailing in Kadapa district with MLC Y.S. Vivekananda Reddy's arrest on Saturday evening.
Irate protesters resorted to vandalism from Saturday night and this continued on Sunday. Public life was completely disturbed with the three-day bandh called by agitators protesting against Mr Vivekananda Reddy's arrest. An ITI student Chandrashekar, upset with the arrest, committed suicide by self-immolation after dousing himself with kerosene in Lingala. He belonged to Yellanur in Anantapur district.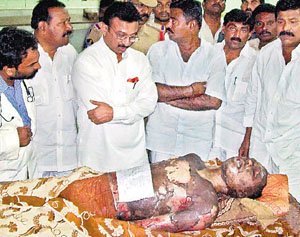 Similarly, another protester Sundar Raju of Y.S. Nagar in Lakkireddipalli died of a heart attack while participating in a rally for a united state.
Meanwhile, Mr Vivekananda Reddy is continuing his fast in the Rajiv Gandhi Institute of Medical Sciences in Kadapa. He said that he had no confidence in the medical facilities in the Rims and suggested that government shift him to the Nizam Institute of Medical Sciences (Nims) in Hyderabad. His daughter Y.S. Sunita approached the State Human Rights Commission to shift her father to the Nims for better treatment. SHRC chairman B. Subhashan Reddy directed the home department to submit a report on Viveka's health condition before Tuesday. He also directed officials to shift the MLC to the Nims if his health condition became critical before the submission of report.
Responding to this, district officials are preparing a report on the health condition of the MLC to send to the home department. It is learnt that police are enquiring about police manhandling Mr Vivekananda Reddy during his arrest. Police registered cases against 25 youth and arrested 15 of them for destroying public and private properties on Saturday night.