KADAPA, 19th Dec'09: The five-day-old fast by Mr. Vivekananda Reddy, MLC, was foiled by the police who arrested and shifted him to Rajiv Gandhi Institute of Medical Sciences where he announced his decision to continue the fast and warded off doctors who tried to treat him. Condemning Mr. Reddy's arrest, an all-party committee spearheading the united Andhra movement called for a 72-hour bandh in the district.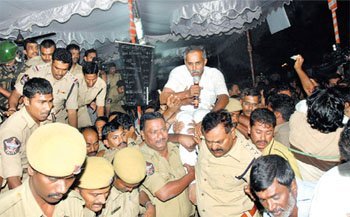 The Kadapa police under the supervision of the superintendent of police, Mr D.S. Chauhan, foiled MLC Y.S. Vivekananda Reddy's fast-unto-death for unified state as his health condition deteriorated in front of the collectorate here on Saturday evening.
His fast entered fifth day on Saturday. Protesters and activists resisted Mr Vivekananda Reddy's arrest, but the police arrested and sent him to the Rajiv Gandhi Institute of Medical Sciences (Rims).
During the arrest, some policemen and protesters fell on the ground as a scuffle took place at the camp. A large number of police forcibly entered the fasting camp and sent Mr Vivekannda Reddy to the Rims in his own car.
Protesters tried to obstruct the superintendent of police but the police sent him in a traffic vehicle. Police, who noticed low attendance at the camp as protesters concentrated on rail roko programme, foiled Mr Vive-kananda Reddy's fast tho-ugh the latter said his health was in good condition. The MLC continued his fast in the hospital. The agitators shouted slogans against the Chief Minister, Mr K. Rosaiah and the home minister, Ms P. Sabitha Indra Reddy. The irate protesters ransacked windowpanes of five lorries in Vempalle and an RTC bus in Kadapa.
They set fire to the BSNL office at Pulivendula.
మూడు రోజులు బంద్‌
–      పాలు, నీళ్లు, గ్యాస్‌లకు మినహాయింపు
                ఆమరణ నిరాహార దీక్ష చేస్తున్న మండలి సభ్యుడు వై.ఎస్‌.వివేకానందరెడ్డి అరెస్టును ఖండిస్తూ అఖిలపక్షం మూడు రోజులు పాటు బంద్‌కు పిలుపునిచ్చింది. పాలు, నీళ్లు, గ్యాస్‌, కూరగాయలకు ఆసుపత్రులు, మెడికల్‌ షాపులు మినహాయింపు ఇస్తూ ఆది, సోమ, మంగళవారాలు బంద్‌, రైల్‌రోకోలు నిర్వహించాలని చేయాలని సమైక్య వాదులకు ఉద్భోదించింది. ఎక్కడా ఎలాంటి ఆస్తి నష్టం జరగకుండా చూడాలని కోరారు. అఖిలపక్ష జిల్లా కన్వీనర్‌ విలేకర్లతో మాట్లాడుతూ జిల్లా కలెక్టర్‌, ఎస్పీ చేసిన చర్యల కారణంగానే తాము మూడు రోజులు బంద్‌ చేయాల్సి వస్తోందన్నారు. అఖిలపక్షం తరపున మానవ హక్కుల కమిషన్‌కు ఫిర్యాదు చేస్తున్నామని ప్రజారాజ్యం పార్టీ నాయకులు తెలిపారు. ఈ దుశ్చర్యను తీవ్రంగా ఖండిస్తున్నామని దేశం నాయకుడు గోవర్ధన్‌రెడ్డి అన్నారు.
వివేకానందరెడ్డిని తీసుకెళ్లినా.. ఆయన ఆసుపత్రిలో దీక్ష కొనసాగిస్తారని, తాము ఇక్కడనే కొనసాగిస్తామని శాసనసభ్యులు ఆదినారాయణరెడ్డి, శ్రీకాంత్‌రెడ్డి అన్నారు. సోమవారం నుంచి మరో ఇద్దరు శాసనసభ్యులు దీక్షలో కూర్చుంటారని డీసీసీ అధ్యక్షుడు సురేష్‌బాబు అన్నారు.