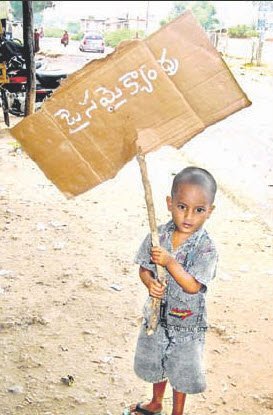 KADAPA, Dec20: A tense situation prevailed on Sunday in Pulivendula and Kadapa where mobs protesting against the arrest and hospitalisation of Congress leader Y. S. Vivekandanda Reddy attacked public property on Saturday night causing a loss estimated by Inspector General of Police R. P. Thakur at Rs. 10 crore.
Deploring the arrest of Mr. Reddy, younger brother of former Chief Minister Y. S. Rajasekhara Reddy, agitators ransacked the tahsildar office, BSNL telephone exchange, Roads and Buildings Executive Engineer's office, sub-treasury and a post office in Pulivendula. Mr. Thakur, who visited Pulivendula to inspect the damage, said those responsible for the destruction would be brought to book.
The police could not initially control the large groups of protesters that went berserk and set ablaze a jeep on the Pulivendula excise office premises and four lorries in other parts of the town. BSNL phones went dead after the exchange was burnt. An all-party committee has called for the three-day bandh from Sunday.
In Badvel town, agitators ransacked a private nursing home and damaged an autorickshaw. Hundreds of youth went round Kadapa city, forced closure of shops and damaged the glass panes of a bus, a lorry and a mini-lorry besides enforcing a total bandh within minutes of Mr. Reddy's arrest and hospitalisation. Superintendent of Police D.S. Chowhan and other police officials undertook intensive patrolling in the city and quelled the mobs.
Meanwhile, in Hyderabad, the SHRC directed the State government on Sunday to consider the plea of Mr. Vivekananda Reddy's kin, to shift him to Nizam's Institute of Medical Sciences (NIMS).
In a petition moved before the commission, his daughter, Suneetha Narreddy, stated that Mr. Reddy was suffering from chronic obstructive pulmonary disease (chest related ailment) and if not controlled immediately it would lead to acidity. His body had shown presence of ketones (acids) because of starvation and there was no proper treatment at Kadapa.
– The Hindu