Muni Reddy hasn't heard of inflation and even if he had, he would continue to sell his dosas for 10 paise.
For over 20 years, oblivious to market vagaries, the frail man of 60 has kept the price of the popular South Indian delicacy at one-tenth of a rupee.
Every morning at Kadapa — which happens to be the hometown of Andhra chief minister Y.S.R. Reddy — the tangy aroma of freshly fried dosas fills the air as Reddy and his wife Ramalakshmi begin business for the day.
The queues in front of his small eatery in Kadapa, 360km from Hyderabad, begin early, from 7am, as people — from poor labourers to students and office-goers — lap up the piping hot dosas served with spicy chutney of three varieties: tomato, chilli or ginger.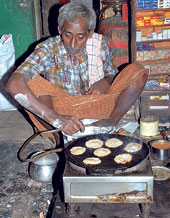 Reddy says each dosa costs him about 9 paise to make, excluding the chutney and operational expenses. Prices have risen — he buys rice at Rs 8 a kg, when the price a year ago was Rs 7 — but all that Reddy has compromised on is the size of the dosa, which is a tad smaller than a papad.
"Although we have reduced the size over the years, there is no reduction in the morning crowds before our shop," says Ramalakshmi. The shop opens only during the morning hours.
The couple sell around 2,000 dosas daily, preparing them on large hot plates in the two-room ground-floor eatery. The family lives in two adjacent rooms.
Reddy says an average customer eats around five or six, at times 10, dosas. Often, an order comes along for 100 or more dosas. "I can manage to sell at 10 paise because of the volume," says the old man whose back has started to hurt.
Reddy says he has to, because of a promise made to his mother Subamma.
Subamma had started the venture almost half a century ago, selling dosas of a bigger size for six paise (one anna). But in the seventies, the problem of small change hit her with no customer giving her six paise.
"Since paying change was a problem, the price was increased to 10 paise," Reddy says, adding that his mother told him not to raise the price since the dosa was the food of the poor.
Reddy, however, realises that doing a public service won't fill his and his family's stomachs at a time rising prices have begun to hurt even the moneyed. He has started stocking condiments, biscuits, cigarettes, candies, soaps and some other household perishables. "These fetch me a decent income. I have a margin of around 30 per cent," he says.
The government offered rice from fair-price shops but he did not like the quality. Instead, Reddy prefers buying rice from farmers who give him a nearly 40 per cent discount.
But what inflation could not do, the younger generation can.
Reddy's sons Shiv Shankar, 27, and Mallikarjun, 25, are part of the business but are reluctant to continue with it.
"It was okay when the price of rice was lower and we could afford it. But now we are not even meeting our expenses," says Shiv Shankar, who plans to set up a cycle shop.
Reddy would have none of that. "Our dosa business will continue till my last breath," he says.
For the past one year, the going has been difficult for the family. Reddy's elder brother separated from him, taking away his own share of the property.
"He wanted me to give up the dosa business, but I chose to give up the small piece of land instead," he says proudly.
Reddy adds that he had made a wise decision: his brother sold his share of the land and is now a pauper.
But the dosa shop is still functioning, with its 10-paisa delicacies.