Vellaala Subbamma better known as Santha kumari born on 17 May 1920 is an Indian musical artist and film actress. Vellaala Subbamma was born in Rajupalem Village, Kadapa District, Andhra Pradesh to Sree Sreenivasa Rao and Smt. Pedda Narasamma. Her father was an actor and her mother was a classical music singer.
Santha kumari is the wife of the famous yesteryear-Telugu Director and Producer P. Pullaiah.
Santha kumari learned classical music and violin under the guidance of Professor P. Sambamurthy and was a classmate of D. K. Pattammal. She joined a drama troupe and was an AIR artiste by the age of sixteen. She came to Madras (now Chennai) to pursue a career in music. She found employment in Vidyodaya School for a remuneration of Rs 2 per month. She sang along with music director S. Rajeswara Rao for AIR.
Santha kumari debuted in Telugu Cinema with Mayabazar a.k.a. Sashirekhaa Parinayam (1936) directed by P.V. Dasu (Pinapala Venkata Dasu). She acted as Sashirekha in the movie – the role played by Savitri in the 1957 version of the movie. She acted in Sarangadhara (1937), during which time the director of the movie P. Pullaiah fell in love with her. They married the same year.
The couple floated the banner PadmaSree Pictures after their daughter Padma, with Sri Venkateswara Mahatmyam (1939) and made great hit movies like Jayabheri (1959), Sri Venkateswara Mahatyam (1960), and Preminchi Choodu (1965). Santhakumari acted in most of the movies that were made by her husband. Her performance in Shavukaru (1950), Ardhangi (1955), Sree Venkateswara Mahatmyam (1960), Shanti Nivasam (1960), Ramudu Bheemudu (1964)are remembered even today.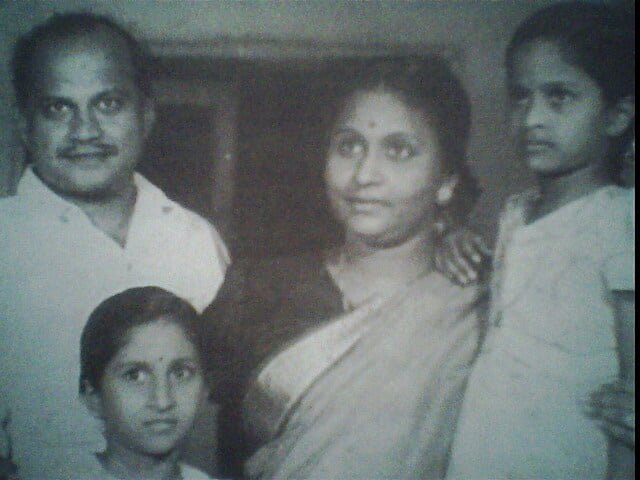 It was followed with mythological films like Rukmini Kalyanam, Parvathi Kalyanam', Bhaktha Jayadeva, Markandeyaand Sri Venkateswara Mahatyam. Later, her first social film Dharmapatni, was produced in which, A. Nageswara Rao made his first screen appearance in a student's role. Her foray into Tamil films came with Bhakta Jana, produced and directed by her husband, with B. Narasimha Rao under the banner of Ragini Pictures. Honappa Bhagavathar played the male lead opposite her. The film and her songs became so popular that P. Pulliah later remade almost all his Telugu productions in Tamil.
1947, The Pullayya-Santhakumari couple started the Ragini Pictures banner along with Bheemavarapu Narasimha Rao (BNR) with Bhakta Jana (Tamil). They made 22 films on both PadmaSree and Ragini banners put together.
Santhakumari also acted in Hindi movies, such as V. Shantaram's Toofan Aur Diyaaas well as in several Tamil movies.
She played many roles – lead actress and then graduated into supporting roles. She also played a negative role in Gunasundari Katha (1949). She acted in about 250 films, until 1976 when she acted in movies such as Andaru Bagundali, Maa Inti Devatha, and Secretary. Pullaiah and Santhakumari acted as wife and husband in only film called Muttaiduva in 1979.
She played the grandmother in Talla Pellama, produced and directed by N. T. Rama Rao. Krishna Prema, Rechukka, Ardhangi' Jayabheri and Premnagar' are some of the movies that won her accolades in Telugu.
Santhakumari, the singing sensation of the late 30s and 40s and later `screen mother' of many popular heroes, died on January 17, 2006 after a prolonged illness, at the age of 86.
Awards:
Santha Kumari was awarded the Raghupathi Venkaiah Award in 1998.
Name : Vellaala Subbamma
Star Name : P. Santha Kumari
Mother Tongue : Telugu
Date of Birth : 1920-5-17
Date of Death : 2006-1-16
Debut Movie : Telugu – Mayabazar a.k.a. Sashirekhaa Parinayam (1936)
Debut Movie : Tamil – Dharmapatni (1941/II)
Debut Movie : Hindi – Toofan Aur Diyaaas
Guru : P. Sambamurthy
Debut Song : Tamil – Sarangadhara (1937 – Part I)
Production Debut: Tamil – Dharmapatni (1941- Part II)