Kadapa, Apr 1: Bollywood actor Akshay Kumar offered prayers at the Ameen Peer dargah (Pedda dargah) in Kadapa on Thursday afternoon.
Akshay Kumar flew down here in a helicopter from the airport near Tirupati around 4 pm and spent about 45 minutes at the Ameen Peer dargah, locally known as Pedda dargah.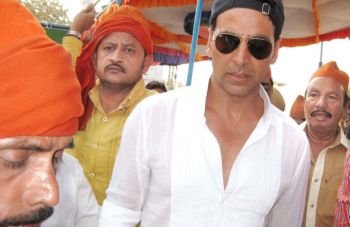 "Not many would get an opportunity to come here. I am the privileged one. I am happy to come here," the 42-year-old actor told reporters after paying obeisance.
Ironically, he arrived about three hours before the Dargah opened and paid obeisance from outside the closed gates of a hall containing the tombs of Peerullah and Ameenullah Malik. Director of the feature film "Blue", Anthony D'Souza, accompanied Mr Akshay Kumar.
Ameen Peer dargah was founded by Khwaja Peerullah Hussaini who was a lineage to Prophet Mohammed. Followers of the dargah believe that any wish that one makes at the shrine is always fulfilled.
Music maestro and Oscar award winner A R Rehaman is a frequent visitor to the shrine.
Click here to know more about Ameen Peer Dargah…
Click here to view Ameenpeer Dargah Photo Gallery…