Brahmam Gari Matham (Telugu: బ్రహ్మంగారి మఠం) is the place where Sri Potuluri Veerabrahmam who was famous for his preachings and mainly for his remarks on future of the world, stayed in Kandimallayapalli. Veerabrahmam is the only futurologist that the East has produced.  He entered Jeeva Samadhi in the year 1693.
Brahmamgari Matham was built in Kandimallayapalli after the jeevasamadhi of Veerabrahmendra swami. The Matham does not look like temple but has beautifully carved statues and its walls are full of Veerabrahmendra Swamy's preachings and his predictions.
Places of interest in and around Matham:
Siddaiah Jeeva Samadhi
Eswaramma Temple
Poleramma Temple
Brahmam Sagar Reservoir (Telugu Ganga Project )
Temple Timings: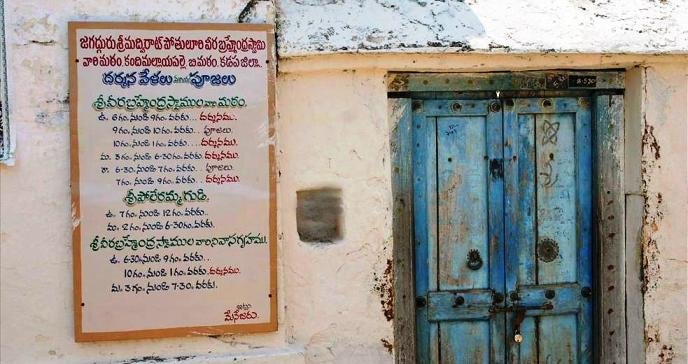 HOW TO REACH THIS PLACE :
By Road:
Kandimallayapalli is located 60 kms from kadapa. It is well connected by road.
Preferable way :
kadapa –> Mydukur —> Kandimallayapalli
Bus Timings:
from MYDUKUR : Distance : 37KM
05.30, 06.30 , 07.30, 08.45, 09.45, 12.00, 13.30, 15.00, 16.30, 18.00, 19.30, 21.45.
By Train:
Nearest railway station is Kadapa. 60 Km is the distance from it.
By Air:
Nearest Airport(s) : Kadapa, Hyderabad, Tirupati, Chennai, Bangalore
Click here to View Brahmam gari Matham photo Galley