PULIVENDULA (KADAPA): After the stormy exit, Jaganmohan Reddy seems to be adopting the slow and steady path for a prolonged political innings in the state. In his maiden speech after resigning from the Congress and Lok Sabha membership on November 29, Jagan told his supporters on Tuesday to be patient for three more years. "Wait for three more years, you (people) will have 30 years of `swarna yugam' (golden era)," he told a gathering of party workers in his hometown.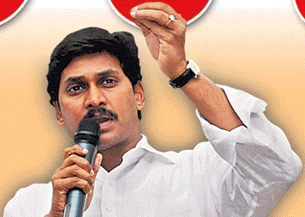 Announcing that he would launch his new party in 45 days, Jagan said the Kadapa bypolls would be the semi-finals and the 2014 assembly elections, the finals. "I will launch a new political party in 45 days, which would protect Telugu pride and self-esteem," he said amidst thunderous claps and loud sloganeering. Observers said it was a clever ploy by Jagan to hijack Chandrababu Naidu's `Telugu pride' slogan (which was first coined by Naidu's father-in-law NTR) to attract the coastal Andhra electorate.
Jagan said he has no interest in destabilising the Kiran Kumar government. But analysts feel Jagan is unlikely to keep his promise. "When the right opportunity comes, he would go for the kill. He's hungry for power and would do anything to grab it," an analyst said. Sources in the Jagan camp claim that he has 25 MLAs who are willing to work with him and the number would swell once he launches his party. So far, Jagan has continued to urge his followers not to quit the assembly in support of him.
Unveiling his `Mission 2014′ plan, Jagan said: "Our party flag will fly high on the roof of every household across the state soon." He said the entire country is watching at Kadapa avidly. "The by-elections will be a semi-final for us and the 2014 elections will be the final. If we endure and overcome the hardships in next three years, we shall reclaim the golden era of YSR and extend it for the next 30 years," Jagan thundered. He went on to say that the Congress would be wiped out in the next three years. He invoked YSR's `golden rule' during his address every now and then and attacked Sonia Gandhi's leadership.
"The Congress is in power only because of my late father. But the party high command engineered a split in our family by luring my uncle with a ministerial berth," he charged. Jagan said he tried to mend fences with his uncle Y S Vivekananda Reddy but it didn't work out. "People adore my late father and appreciate the enormous work done by him for the state," 37-year-old Jagan said. He also said he intends to resume his Odarpu yatra because of which the gulf between him and the party leadership had widened. He said he was humiliated and so was his mother. "Keeping aside my self-esteem, I went to Delhi to prevail upon the high command to let me undertake the yatra as per the promise I had made at Nallakaluva. My mother Vijayalakshmi met Sonia Gandhi and pleaded for the continuation of the yatra but our pleas were ignored," Jagan said. But he went ahead with the yatra only to keep his word.
Jagan said he was fed up with the wicked politics of Congress. In his resignation letter to Sonia Gandhi, Jagan had described the party's conspiracy to cause a split in the YSR family as the last straw. "Ultimately I came out of the Congress on my own and all alone," he claimed. The young leader said his aim was to restore political values in the state. Jagan held separate meetings with his supporters from several mandals under Pulivendula assembly constituency on Tuesday.
Kadapa zilla parishad chairperson Jyothi Reddy, Jagan's uncle Y S Manohar Reddy and other relatives were with him during the meetings. Sources said Jagan would stay in Pulivendula for two more days and continue interactions with his supporters. Meanwhile, YSR's arch rival and health minister D L Ravindra Reddy said in Tirupati that Jagan's agenda is nothing but pillaging the state.