KADAPA: The 13th Finance Commission allocated Rs. 3.40 crore for safeguarding and developing historical, ancient structures and places at 16 places in Kadapa district.This was disclosed by Director of Archaeology and Museums P. Chenna Reddy on Friday In his address at the 31st annual session of South India History Congress sponsored by Indian Council of Historical Research, New Delhi, at Yogi Vemana University central library building at Kadapa.
Principal Secretary of Higher Education C.R. Biswal  called upon people to understand history to enrich their knowledge for their own well-being and for the benefit of society as well. Mr. Biswal said knowledge of history helps one shape their future. Studying history was mandatory until fifth standard and knowledge of the historical background would increase their intellectual acumen.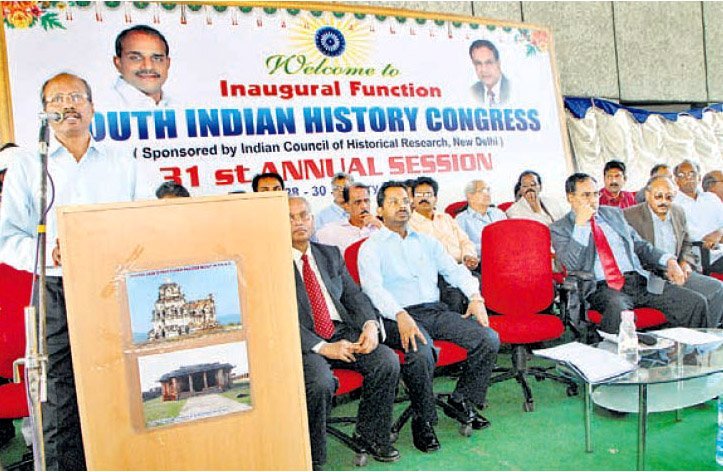 He exhorted government officials to examine the historical data before disposing off every file. Member-Secretary of Indian Council of Historical Research Irshat Alam advised history professors and researchers to approach the council for financial assistance and assured that it would never go back on promoting research on local history at several places. Keeping in view the modern trends in the country, the future generations should be enlightened on the historical facts and professors and researchers should don the mantle, Prof. Alam stated.
Collector Shashi Bhushan Kumar described history as an unending stream of knowledge and the newspapers and weeklies were propagating history through articles. Recalling that he read Nobel Laureate Amartya Sen's article on the need for revival of the ancient Nalanda University, the Collector lamented that China possessed more historical resources on the university than India.
Yogi Vemana University Vice-Chancellor A. Ramachandra Reddy, who presided, said one must have confidence on history. A book 'Spectrum of Historical Study' released on this occassion. Prof. Jolapalem Mangamma and Somi Reddy were felicitated for yomen service and research.
Yogi Vemana University Registrar C. Sivarami Reddy, Principal M. Ramakrishna Reddy, Professor of History G. Sambasiva Reddy,noted historians Dr.Avadhanam Umamaheswara Sastry, Dr.G.Sreenivasulu, professors and researchers of Andhra Pradesh, Tamil Nadu, Kerala, Karnataka, Orissa and Maharashtra, participated.