KADAPA:Dec14: Activists of Congress and Telugu Desam Party, several organisations, minorities and students took out 'funeral processions' of Congress president Sonia Gandhi, Union Home Minister P. Chidamabaram and Telangana Rashtra Samiti president K. Chandrasekhar Rao and burnt their effigies before Kadapa Collectorate demanding united Andhra Pradesh.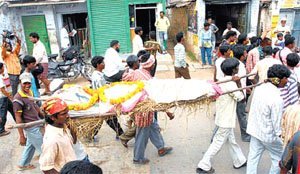 The Collectorate road was packed with large number of protesters and a spate of effigy burning there. Muslim minorities led by Congress leader Syed Altaf carried Ms. Sonia Gandhi's effigy a la funeral procession and burnt it near the Collectorate.
Telugu Nadu Students Federation district president Ravisankar Reddy and members took out a protest rally and burnt effigies of Sonia Gandhi and KCR. Kadapa Lorry and Taxi Owners Associations led by its president Ajay Kumar Veena took out a tractor rally and burnt KCR's effigy before the Collectorate.
Car rally
Kadapa Taxi Owners Association members took out a car rally, staged rasta roko at Seven Roads junction here by parking cars in a circular manner. Congressmen took out a massive rally in Pulivendula while Telugu Desam Party members took out a motorcycle rally in Pulivendula. Students took out a massive rally there. Protest rallies were also taken out in Proddatur, Mydukur, Rajampet, Jammalamadugu, Kodur and other places in Kadapa district.
Deploring the arrest of the Vijayawada MP Lagadapati Rajgopal, Congress functionaries went round closing down all the Central and State government offices, banks, head post-office, APTransco and telecom offices. Yogi Vemana University faculty members, non-teaching staff and students boycotted classes and staged dharna on Kadapa-Pulivendula road before the campus on Monday opposing bifurcation of the State.
They took out a rally from the new science complex on campus and staged dharna on the road for nearly two hours. University principal S.K. Valli Pasha participated in the dharna expressing solidarity. ABVP and AISF leaders Ramana, Ankanna, Suresh, Ramu and Chennaiah participated.
–       The Hindu