KADAPA: Chief Electoral Officer Bhanwar Lal directed officials on Monday to safeguard godowns storing electronic voting machines (EVM) on the scale of security provided to currency stock points and asked them to strictly adhere to the guidelines laid down by the Election Commission of India.
Mr. Bhanwar Lal inspected electronic voting machines in Kadapa and addressed a review meeting with revenue officials at the State Guest House here on the safety of EVMs, electoral revision and related aspects.
Stating that he inspected the EVMs on ECI directions, he told revenue officials to keep political parties informed on the safety measures being taken.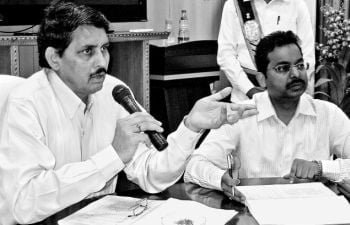 District Collector Shashi Bhushan Kumar said that the EVMs, presently stored in eight sub-treasuries and two other places in the district, would be shifted to a single place.
A storage godown would be built on the Kadapa Collectorate premises under construction and steps were being taken to get 50 per cent of the fund sanctioned from ECI, Mr. Bhanwar Lal said.
He told officials to lay special emphasis on enrolling youth voters who have attained 18 years of age and to hold meetings with vice-chancellors and principals of educational institutions. Students should be enrolled on the certification of the heads of the institutions.
He wanted enrolment of voters in old age homes and welfare institutions.
List on Jan 5
The CEO instructed officials to take due care in enrolment of voters in view of the ensuing byelection in Kadapa district and publish the voters' list on January 5.
The voters' lists should be displayed at all fair price shops, panchayat offices, mandal offices and major centres. He wanted steps taken to avert the scope for public complaints that they have voter ID cards but their names were missing in the voters' list.
The Collector explained to the CEO that the district had 2,157 polling stations and 18.36 lakh voters. In all, 48,185 applications were received seeking enrolment and 37,665 applications were accepted and 2,984 applications were received for deletion of voters and of them 1,831 applications were accepted.
 Photo identity cards
It was proposed to delete 57,985 votes on suo moto basis, he said. It was also proposed to delete 5,651 duplicated voters. He promised steps to ensure 100 per cent photo identity cards in the district.
As 36,825 photographs were unavailable, 10,399 photos were collected and notices were served on the remaining voters, Mr. Shashi Bhushan Kumar said.
In all, 2.29 lakh EPIC cards would be issued in the district. Joint Collector Krishnamohan Reddy, District Revenue Officer P.H. Hemasagar, RDOs P. Ranjit Basha, Padmaja and M. Venkataramana Reddyparticipated.
(source: The Hindu)