Mydukur: Former MP Bhooma Nagi Reddy, owing allegiance to Y.S. Jagan, on Tuesday offered to quit politics if Jagan did not win by a majority in Mydukur constituency in the upcoming byelection to Kadapa Lok Sabha seat.

He also dared Minister for Medical and Health D.L. Ravindra Reddy to accept the challenge.
Mr. Nagi Reddy lambasted DL for his tirade against YSR and Jagan while participating in a 'dharna' in Mydukur before the Tahsildar's office.
Mr. Nagi Reddy deplored the booking of cases against Jagan's supporters who tried to install YSR's statue in Mydukur assembly segment at Chinnaiahgaripalli village, on a complaint from a policeman.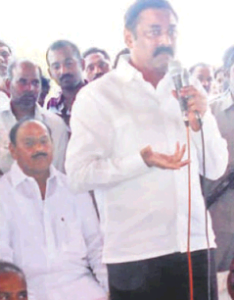 He compared Dr. Ravindra Reddy with a light that glows brightly before extinguishing. He accused the Minister of losing people's support and levelling charges against Mr. Jaganmohan Reddy fearing a bleak future.
The former MP condemned the Health Minister's charges against Mr. Jagan, who was on a 'Haritha Yatra' demanding expeditious completion of Polavaram project.
He demanded withdrawal of the cases booked against Jagan followers at Chinnaiahgaripalle. Former MLA of Mydukur S. Raghurami Reddy condemned levelling charges against Jagan's supporters on a complaint from a policeman.
He assured the people of Chinnaiahgaripalle not to fear such cases and assured to counter the highhanded actions of the police, who he claimed worked under pressure from Dr. Ravindra Reddy. Local leaders and Jagan supporters participated in the protest.