Kadapa: Andhra Pradesh people's heart is beating for YS Jagan mohan Reddy as majority of them wants to see him as the CM Of AP after next elections, according to NTV- AC Nielsen survey that is conducted in between Jan 6 – 26. 
YS Jagan is emerging as the most popular leader post Dr.YSR. He is considered amongst public as someone who would make the best CM after the next elections. 
NTV in association with Nielsen interviewed 12052 voters across 75 assembly contituences, in three regions of the state. 
This survey revealed that people of the state are eagerly looking for YS Jagan as the best leader  for them. According to the survey chief minister Kiran losing trust in people while YS Jagan is inclined up with 61% growth during last one year. 
More than 1/3rd see Y.S. Jagan Mohan Reddy as their next CM followed by N Chandrababu Naidu, K Chandrasekhar Rao and N Kiran Kumar Reddy. 
Best CM of AP after next elections
66 percent and 48 percent of the voters respectively from Rayalaseema and Coastal Andhra are seeing Y.S. Jagan Mohan Reddy as the frontrunner for the CM Position while only 43 percent among Telangana people preferred K Chandrasekhar Rao, where as 16 percent from the Telangana region supporting Kiran followed by Chandrababu (14%) & YS Jagan (12%). 
Among all the main leaders in the state, the leaders whose image have improved in the last one year are Y.S. Jagan Mohan Reddy as well as K Chandrasekhar Rao.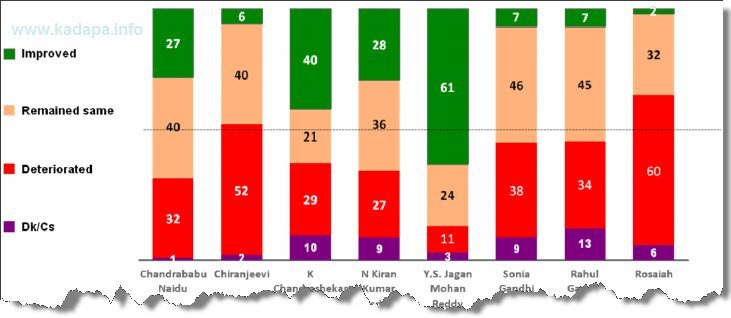 The leaders whose image have deteriorated in the state are Chiranjeevi, Rosaiah, Sonia Gandhi as well as Rahul Gandhi. 
Post death of YSR… 
Most of the electorate feel that Congress party has weakened post death of Dr. YSR Reddy. The assessment similar across regions.The main reasons for weakening for Congress party as per the public are Y.S. Jagan Mohan Reddy's decision to quit Congress as well as lack of good leadership within Congress party. 
An average 34 percent across  the regions felt that congress high command & senior leaders in the state are the main reasons for weakening Congress after YSR's death. 
Seats share if there is election for Assembly now… 
According to the survey the to be launched Jagan's new party 'YSR party' is gaining popularity emerging stronger. According to the assessment made by the survey Jagan's party will win 139-153 seats in legislative assembly if  elections held within a month or two.