At an eatery on NH-18 that goes from Kurnool to Kadapa, a group of young Sabarimala pilgrims, all in black dhotis, is engrossed in discussing their travel plans. There is a moment of silence when one of them remarks that by the time they return home, Y S Jaganmohan Reddy may have launched his new political party. Travel plans forgotten, the youth are all excited. Another round of tea is ordered. "I keep saying he should have done so by now. It is already late,'' says one.
"This is the right time. Any further delay will take him nowhere. He should immediately overthrow the new government,'' says another. "Do you know what is happening in Hyderabad? All the ministers are resigning. Jagan does not have to do much. Just see what happens when he launches the party; everyone will join him. We will go to Hyderabad when that happens,'' says another with a ring of finality. Soon, it's time for them to hit the road again.
The four-lane Hyderabad-Bangalore stretch of NH-7 splits at Kurnool and goes further down as NH-18 to Kadapa and Chittoor—two of the districts that make up the Rayalaseema region of Andhra Pradesh. Both the National Highways have brought Kadapa, renamed YSR district, much closer to the state capital. What used to be a journey of 10 hours on a bad day is now just a six-hour drive.
Known for moustache-twirling faction lords and bloody feuds, Kadapa's politics remained confined to protecting individual turfs, even after YSR became Chief Minister and ruled till last September. YSR preferred to keep it that way. But all that changed when his son Y S Jaganmohan Reddy was overlooked for the CM's post. Kadapa now is suddenly gunning for Hyderabad.
At Engineerkotala near Mydukur, you touch a raw nerve if you ask about Jaganmohan. "Why are you people after him? What wrong has he done? Is there any other leader who is as popular as him, not just in Kadapa, but across the state? Then why has he been sidelined?'' asks U Venkataramana.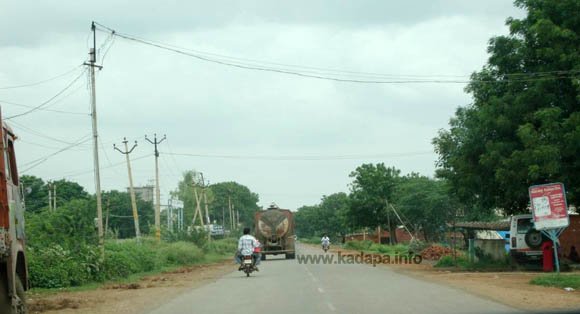 Engineerkotala is a housing society that was built under late YSR's Indiramma Housing Scheme. At least 40 families of Nandipadu village who lived in thatched-roof houses were given free land and Rs 30,000 each to construct houses at Engineerkotala, named in honour of the civil engineer who designed the complex.
"We never dreamed of owning houses like these. We owe so much to YSR and that is why we want his son to lead this state. Jaganmohan has seen and knows so much about welfare schemes like these that only he can ensure that they are continued," says another beneficiary, K Thirumalakonda.
Man in a hurry?
But in Khajipet village, the elders think differently. "I think Jaganmohan is very impatient. His father worked for more than 30 years before he became CM. It's not that YSR never aspired to become CM but he waited for his chance. Jaganmohan should have been patient. These days, youngsters want everything as soon as they enter politics,'' says Venkat Chalapathi, a former sarpanch.
His nephew, Ramulu, an arts graduate, disagrees. "The power of youth is in their zeal to go forward. Jaganmohan wants to become CM to take this state forward. What is wrong in that?'' he says.
What started as a race for the CM's post has now become a matter of pride. In fact, Jaganmohan's open defiance of the Congress high command—he resigned on Monday as Congress MP after months of defiance, accusing the party of trying to split his family and usurp his father's legacy—appears to have enthused people more than his claim for the CM's post.
"Show me one politician in this state who has the guts to take out an 'odarpu yatra' (to console the families of those who died or allegedly committed suicide after hearing of YSR's death in a helicopter crash) or any yatra against the wishes of his political party. Jagan anna is doing it,'' says Kotireddy Adireddy, a villager in Khajipet.
"The lion cub will grow to become a lion. Pulivendula 'puli' (lion), Jai Jagan, Next CM Jagan,'' shout some young men zipping past on their bikes.
A giant statue of the late YSR throws a shadow on the AP Tourism restaurant at Kadapa junction. From here, four-lane roads spread out into the interiors of Kadapa. Swank cars and SUVs fill the parking lot of the restaurant as Kadapa's neo-rich drop in for a late-afternoon meal. Not many are enthusiastic about Jaganmohan Reddy's politics.
"We all want him to become CM but that apart, YSR and his son are different. He is popular because of his late father,'' says B Shrikant, a civil contractor.
In YSR's shadow
Driving through Kadapa district, it is hard not to come across something that bears testimony to the late YSR's largesse welfare programmes. Jaganmohan's popularity is linked to YSR's welfare schemes.
With 28 blocks comprising 650 two-room flats, Indira Satellite Township on Pulivendula Road is one of the biggest low-cost housing project for people below the poverty line in the state. YSR had later revised it for allotment to anyone without a proper roof over his head. For a down payment of Rs 31,000, families without a 'pucca' house are allotted the 30-sq-yard flats here, the remaining Rs 1 lakh to be paid in EMIs of Rs 5,000 each.
Completed about a year ago, people have just begun moving into the township which boasts of 24-hour water supply, power supply and wide concrete roads and is set to get a school, a post office and a community hall soon.
"These welfare schemes changed the lives of lakhs of people who were otherwise condemned to living in poverty and penury. We think that only Jaganmohan can ensure that the welfare schemes launched by his father continue and more and more people are benefited. That is the only reason why we want him to become CM,'' says Rayachoti Ishwaraiah, who retired as a cashier in a textile mill, and was allotted a flat in Indira Satellite Township.
"The house is small but I am proud to say that I own it. YSR gave us this pride and respect. So we owe it to his son,'' he says.
On the road to Rajampet via Nandalur you can experience the power of the Reddys. The Reddys' rise to affluence in this stretch is due to a large number of migrants working in the Middle East, especially Kuwait and Saudi Arabia.
"When Jagan anna calls, at least 100 vehicles filled with supporters from each village go to Pulivendula. If it boils down to showing our power in his political struggle, we will show it. He just has to call us,'' says Kondalareddi Venkatreddy, a fertiliser businessman at Nandalur.
Rajampet is a separate Lok Sabha constituency from where Congress's A Sai Pratap was elected in the 2009 polls but Jaganmohan is the most popular man here. "In Kadapa or any part of Rayalaseema, he does not have to come on an 'odarpu yatra'. We are all with him. Let him float his party and you can count on your fingertips how many are 'not' with him'' says Prasad Reddy, a farmer leader from Bakarapeta.