Chennai: P. Obul Reddy, industrialist, philanthropist and patron of the arts, passed away in Chennai on Wednesday ( 1ST July 2010) after a prolonged illness. He was 85 year old, and is survived by two sons and three daughters. P. Obul Reddy( Pottipati Obul Reddy) born in 1925 in a village Urlagattu Podu ( Pottipati Palli) of Railway kodur mandal of  Kadapa district.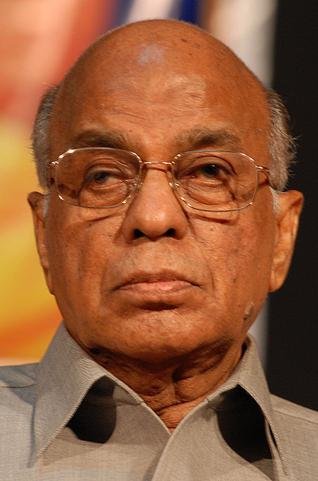 Mr. Reddy, who was one of the first industrialists from the South to enter into the television business, was the proprietor of the firm that sold the popular Dyanora TV sets. He was also the former managing director and founder of Nippo Batteries, and was the managing director of Panasonic India, formerly the Indo Matsushita Company.
Recalling Mr. Reddy's philanthropic activities, S. Prabhakar Rao, executive director, Corporate Affairs, Chemplast Sanmar, said a number of schools and other institutions had been started by him both in Andhra Pradesh and in Chennai.
Obul Reddy developed his native village by constructing Kodanda Rama temple and cement roads in a village.
Pappu Venugopal Rao, secretary, The Music Academy, who was associated with him for over 30 years, said Mr. Reddy, a vice-president of the Academy, had endowed one of the largest amounts and was keen on popularising the works of Thyagaraja, Muthuswami Dikshitar, Annamacharya and Narayana Tirtha. He also recalled his association with the Andhra Mahila Sabha from the days of its founder Durgabai Deshmukh and the starting of the P. Obul Reddy Senior Citizens Home and the Vocational Training Centre.
Senior Bharatanatyam exponent Chitra Visweswaran said he was a gracious patron of the arts who belonged to an era when such patronage was motivated by neither political, economic, nor social pressures. It was based on sheer excellence and merit.
"No classical dancer can ever forget the part he played in establishing the 'Nritya Choodamani' of Shri Gana Sabha as a much coveted title. An unconditional supporter of classical arts and artists, he will be sorely missed by the dance and music community," Ms. Visweswaran said.
Senior mridangam vidwan Umayalpuram K. Sivaraman said his death was an irreparable loss to the world of fine arts. "As an ardent devotee of Saint Thyagaraja, he sponsored Thyagaraja festivals in all sabhas in the city. He also promoted many, many music concerts every year," Mr. Sivaraman said, speaking on Mr. Reddy's "highly laudable" contributions.
"His association with The Music Academy has been very intimate for well over probably five decades and his presence in the concerts not only in the Academy, but other sabhas too would give a lot of fillip to the musicians, because musicians found in Obul Reddy a fine rasika and a connoisseur of music."
Besides fine arts, he also contributed to charity institutions and humanity must thank him for his philanthropic attitude, Mr. Sivaraman said. "The whole world of carnatic music, and rasikas have lost a very great patron of fine arts. The vacuum created by his death can never be filled. He was a very good friend of mine for many years and personally, his death is a great loss to me," he said.
Governor Surjit Singh Barnala sent a message to his daughter-in-law Preetha Reddy, managing director, Apollo Hospitals, condoling Mr. Reddy's death.