The Bhabha Atomic Research Centre has developed an innovative techno-economically viable process for the recovery of low-grade Uranium (less than 0.2 per cent) from the Tummalapalle ore in YSR district.
"The objective of making a techno-economically viable process flowsheet is to reduce the number of stages of unit operations and conservations leachants by regeneration and recycle leading to minimisation of fresh water inventory as well as quantum of liquid effluent discharge for the most challenging low-grade Uranium ore," Dr A K Suri, Director, Materials Group, BARC said.
The process technology developed by BARC is being translated for industrial adoption by the Uranium Corporation of India Limited (UCIL) and the mine and the mill are in advanced stages of completion at Tummalapalle, Suri said in the latest issue of the BARC newsletter.
Natural uranium (which constitutes approximately 99.3 per cent of Uranium-238 and 0.7 per cnet Uranium -235) is the basic raw material for nuclear material in Indian Pressurised Heavy Water Reactors (PHWRs). The energy in the reactor is derived from the 'fission' of U-235, the only 'fissile' isotope in nature.
Suri said a good understanding of the nature of mineralisation of Uranium values in the ore, Uranium process chemistry and different unit operations, has led to the development of well integrated specially engineered alkaline leaching process flowsheet to treat the low grade uranium deposit in the alkaline host rock in Tummalapalle.
"Also the inevitable chemical species like sodium sulphate and calcium carbonate, in the process were converted into useful by-products by carefully tailored sequence of chemical steps," he explained adding that "many challenges inherent in the ore characteristics were converted into opportunities such that a vast resource could be put to use for country's nuclear power programme at a competitive cost."
Suri said the existing uranium processing mills at Jaduguda and Turamdih in Jharkhand use conventional sulphuric acid leaching technology for the production of yellow cake or magnesium diuranate. Hence the switch over to alkaline leaching technology on commercial scale for Tummalapalle ore would be a first time venture.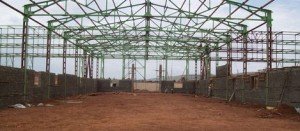 The commercial processing plant which is coming up in Tummalapalle is with a slated capacity to treat 3000 tonne of ore per day using state-of-the-art alkaline pressure leach process technology, Suri said. Earlier, a technology demonstration pilot plant for alkaline process was set up at UCIL complex in Jaduguda jointly by BARC, Atomic Minerals Division, UCIL and Nuclear Power Corporation of India, he added.