Attirala (Telugu: అత్తిరాల) is an uninhabited village.
There is the temple of sri Thretheswara swamy in the form of a stone sivalingam. According to tradition there lived a Rakshasa by name Threthasura in Thretayuga who brought misery not only to man kind but to sages also. Then to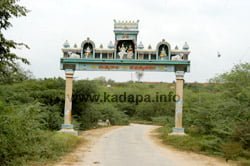 get rid of him, sage Narada and other Maharshis peformed a yagna in propitiation of lord Eswara. Eswara came out from the homa gundam in the form of a Tejo lingam and emancipated the rakshasa by killing him. This temple is picturesquely situated on the bank of the river Bahuda (Cheyyeru) on a hillock with a beautiful Kalyana mantapanm (marriage hall) and gali gopuram (tower). The hillock is known as Thretachalam on account of the manifestation of Threteswara swamy.
There is a temple of Gadadhara swamy to the north of this temple. Below the hillock on the bank of the river, Sri Parasurama was installed in a temple and hence the shrine is known as Parasurama kshetram.
Legend: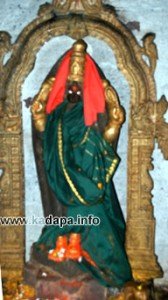 The legend has it that Renuka devi, the wife great sage Jamdagni, used to go daily to the river, prepare a pot with sand and bring water in it for japam to Jamadagni. It so happened one day that she quite accidentally cast her eyes on Chitraradha, a Gandharva king that had come there for a bath as a consequence of which her mental concentration was distracted and she could not prepare a pot with sand as usual. She, therefore prayed to devatas, earned their grace, prepared the sand pot and brought water and consequently she was late in returning home with water.
Jamadagni who came to know of what had happened with his yoga drusti (spiritual eye) asked his sons to kill their mother for the sin committed by her. Though the first six sons refused to comply with their father's order, the last son 'Parasurama' beheaded his mother and also all his brothers in obedience to the behest of his father. Jamadagni pleased, asked his son Parasurama to choose a boon and the latter promptly asked for the life of his mother and brothers. Jamadagni having no alternative, brought Renuka and his sons back to life. Yet the sin of killing his mother stuck to him and a bath in several sacred rivers could not absolve him of it.
It is the bath in the Bahuda river at Hathyarala or Attirala that washed away his sin. Because of this, the place got the name HathyaRala (Hathya – Killing; rale – dropped off). The place also goes by the name Parasurama kshetram as it was for sometime the abode of Parasurama.
Another legend goes to say that in Thretayuga two brothers by name 'Shanka' and 'Likhitha' who were great sages were living. While Shanka was doing penance in a garden, Likhitha, who went to see him but could not find him, plucked some frits in the garden and ate them. Shanka who then came there pointed out to his brother that he had eaten the fruits with out the permission of the owner, the ruler of the land, he had committed a theft. Likhitha then went to the king and confessed his theft, Where upon the king ordered his two arms to be cut. Likhitha visited several sacred places and took bath in several sacred waters.Finally,on his return to his native place,he tookbath in the local riverwhen he got his arms back.hence the river is called cheyyeru or bahuda nadi from that time onwards.(cheyyi is arm and yeru river in telugu;and bahu is arm and nadi river in Sanskrit).
Mahasivaratri: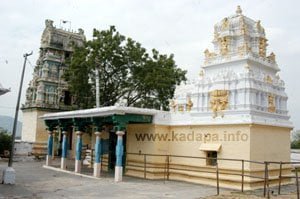 Mahasivaratri is celebrated for 5 days from magha bahula chaturdasi (febrauary-march). About 30,000 devotees from far and near places congregrate. Especially the residents of thirumalarajuput and kamantharajupuram of Rajampet taluk pour in large numbers. Only Hindus takes part in this festival.
A fair is held in connection with the festival and dates back to the 19th century. About 30,000 people congregate. Eatables, utensils, lanterns, ayurvedic drugs, pictures, photos, clothes, and toys of various kinds are brought and sold at the fair.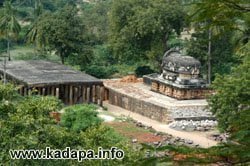 There is a choultry where there is free feeding to padmasales. Special pandals are erected to arrange free feeding to vaisyas and Brahmins. Arrangements for transport are also made.
 Merry-go-rounds and dramas afford entertainment to the visitors.
This temple is under the control of Indian Archeology  department.
How to Reach Attirala:
 By Air:
 Nearest Airports: Kadapa, Chennai, Bangalore, Hyderabad
 By Train:
 Nearest Railway Station: Rajampeta (6 KM), Kadapa
 By Bus:
 Attirala is well connected by road and is situated at a distance of 6KMs from Rajampet Town.
 Nearest Bus station: Rajampeta (6 KM)