Home
»
Tag Archives: Nellore
Kadapa: The North East monsoon has been vigorous over kadapa district (Rayalaseema) of Andhra Pradesh.
Read More »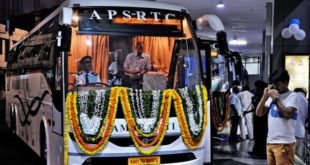 APSRTC bus timings from Nellore to Kadapa. Bus timings, fare details, distance, route and coach details for those who want to travel from Nellore (Capital of SPSR Nellore District) to Kadapa, the capital of YSR district in Andhra Pradesh. APSRTC Nellore Bus Station Enquiry Phone Number : 0861 – 2372002 APSRTC Kadapa Bus Station Enquiry Phone Number : 08562 – …
Read More »
Kadapa: The Election Commission of India has decided to hold biennial elections to the graduates' and teachers' constituencies of the Andhra Pradesh Legislative Council on March 13th. Polls will be held in the graduates constituencies of Srikakulam, Vizianagaram and Visakhapatnam with 1,61,251 voters; Kadapa, Anantapur and Kurnool with 1,97,334 voters and Prakasam, Nellore, Chittoor with 1,81,564 voters.
Read More »