KADAPA, 07th Aug: A dentist turned IPS Officer Dr. Tarun Joshi assumed charge as Kadapa Superintendent of Police on Saturday.
An IPS officer of the 2004 batch, Dr. Joshi worked as ASP of Godavarikhani and Adilabad and as OSD in Warangal. He was Deputy Commissioner of Police (Law and Order) in Visakhapatnam prior to this posting.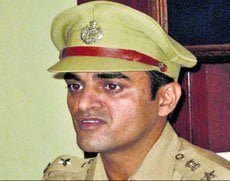 Dr. Joshi, who mostly worked in Telangana region and for a brief period in coastal Andhra, said Kadapa was his first district as SP and his first stint in Rayalaseema region. Asserting that he would act in a fair and impartial manner, he said his prime goal was to maintain law and order, control, detect and prevent crime and to inculcate a sense of security and safety among the people.
Police officials and personnel should be accessible to the people and ensure that they would not hesitate to visit a police station, he said.